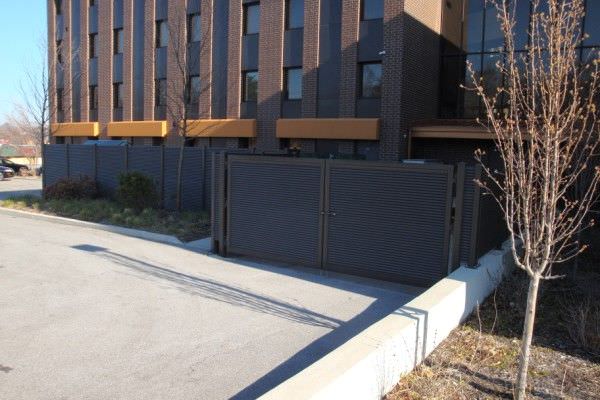 GALVANIZED STEEL FENCE
Louver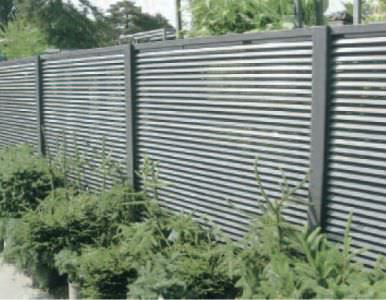 ALUMINUM FENCE
Louver
Titan Design
…very strong louvers allowing 80% or 100% direct visual screening
Specify:
The Titan Design is fabricated from a ½" x 2" aluminum extrusion. Manufactured from 6063 extruded aluminum louvers, the Titan Design can have post centers of 8 foot and still maintain its outstanding strength. Spans greater than 5 foot requires a rear mounted center mullion. The powder coated aluminum extrusions are maintenance free. The choice of color allows the Titan Design fencing and gates to fit perfectly into modern architectural and security applications.
The Titan Aluminum design with 80% visual screening weight is 3.25 lbs. per square foot and 100% screening weight is 4.00 lbs. per square foot.

Ametco® louver designs are polyester powder coated to any of Ametco's 15 standard colors. If your louver requirement is for widths from 1 foot to 500 feet, call Ametco® Mfg. Corp. and one of our sales engineers will be glad to work with you to select the right product to meet your requirements.
Ametco's aluminum fencing system is 100% manufactured in the United States.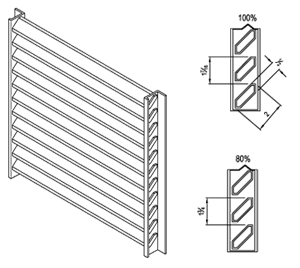 ---
Typical Applications
The following applications are common for this panel design. Click the name to to go to its page.
---
CAD Drawings
Ametco provides CAD drawings in various formats to add to your project spec. Click the name or icon of the desired format to download.
To view a larger version of the thumbnail image, click the magnifying glass after hovering over the image.