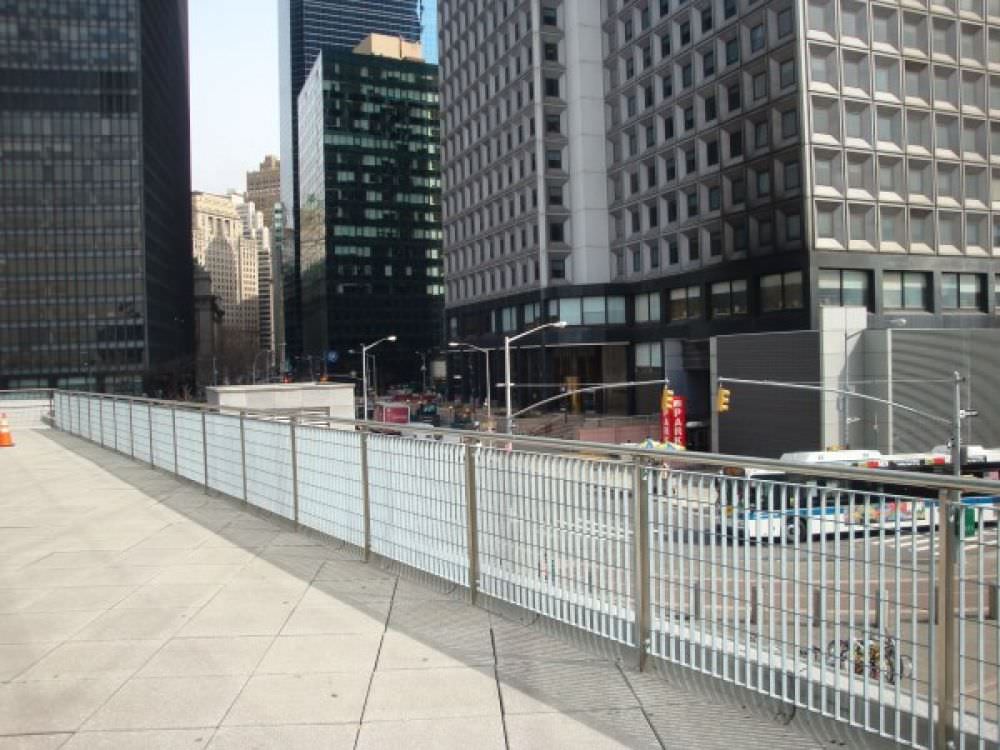 RAILINGS METRO DESIGN GALVANIZED AND POWDER COATED AT THE STATEN ISLAND FERRY IN NEW YORK 070
Project Type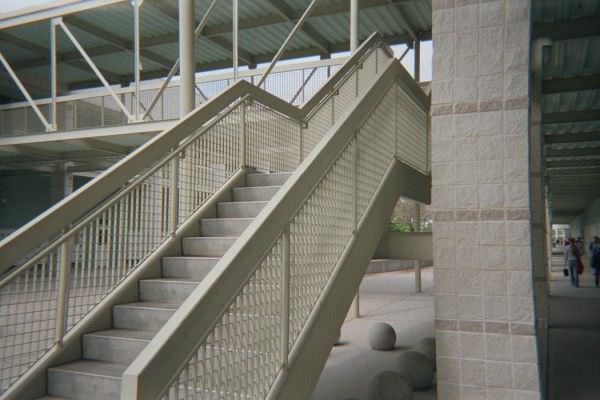 GALVANIZED STEEL RAILING
Project Type
Steel Mesh Infill Panels for Railings
Ametco fabricates six (6) steel open grille or steel mesh infill panels for railing applications. Steel open grille panels are widely used in railing installations. The square and rectangular mesh panels use a main bar and a round crossbar to fabricate the open grille design. These grilles or steel mesh panels are manufactured using an exclusive electro-forged welding process, giving complete penetration of the cross member, and finished with high-quality powder coating to make them ideal for most environments.
Each railing system is built to withstand a 200 lb. load in any direction. Ametco's architectural steel mesh panels bolt directly onto the railing system uprights. This allows for quick and easy installation, simple maintenance, and immense flexibility.
The steel open mesh uses 1"x 5/64", 1"x1/8", 1-3/16"x5/32" for the main bar, and either 3/16" or 1/4" round crossbar. Below are the 6 styles of open mesh patterns available for railing installations.
Square Steel Mesh Panels
Shield Design
1-21/32" x 1-3/4" square mesh,
1" x 5/64" main bar and 3/16" round cross bar
Lattice Design
2-7/16" x 2-19/32" mesh,
1" x 1/8" main bar, 3/16" round cross bar
Stadium Design
3-15/16" x 3-15/16" square mesh,
1" x 1/8" main bar and 3/16" round cross bar

Rectangular Steel Mesh Panels
Grotto Design
1-21/32" x 5-3/16" mesh,
1" x 5/64" main bar and 3/16" round cross bar
Metro Design
2-7/16" x 5-3/16" mesh,
1" x 1/8" main bar and 3/16" round cross bar
Blockade Design
2-7/16" x 5-3/16" mesh,
1-3/16" x 5/32" main bar and 1/4" cross bars
---