The Grotto®
Railings System
uses a 1-21/32" x 5-3/16" mesh, 1" x 5/64" main bar and 3/16" round cross bar
The small rectangular opening, 1-21/32" x 5-3/16" wire mesh makes
Grotto® Railings
ideal for steel railing infill panels, steel gates, window guards and any application where control of the opening size is needed. This includes stairwells, open stairs, decks, and porches.
Grotto® Railings
are fabricated to your requirements than hot dip galvanized and powder coated to provide an extremely effective coating system. The
Ametco®
coating system gives these railings a maintenance free protection and the beauty of color.
These railings are manufactured using an exclusive electro-forged welding process, giving complete penetration of the cross member. This alternative approach is both functional and decorative making them ideally suited to harmonize with any environment. Through these advanced techniques, Ametco® Manufacturing has changed the image of fencing and extended the range of applications throughout the private and industrial building industries.


LASTING COLORS ...with the best corrosion protection in the industry!
All fence products have a hot-dip galvanized finish with a polyester powder coating giving them the best corrosion protection in the industry. Ametco's fence coatings:

• ensure protection from the elements
• improve rigidity
• eliminate maintenance
• endure exposure without crazing or fading
• come in 15 color choices

The hot dip galvanizing may leave rough areas on the treated surface, although its does not impair the coating's corrosion resistance. The galvanized fence is then powder coated with one of 15 different colors for an "extra" touch of appeal and harmonizing with its surroundings.
For jobs where a smooth surface is required, see Ametco's fixed louver aluminum or stainless steel products.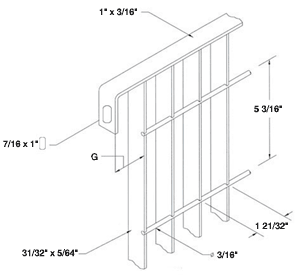 MESH: 1-21/32" x 5-3/16"
MAIN BAR: 1" x 3/16"
CROSS BARS: 3/16"